Allergy vs. Asthma: What's the Difference?
We are proud to provide our patients with the high-quality allergy and asthma care they need. Learn more about the difference by visiting us at Piniella Asthma + Allergy Center. Contact us today for more information or visit us online to book an appointment. We have convenient locations to serve you in Coral Gables FL and Palmetto Bay FL.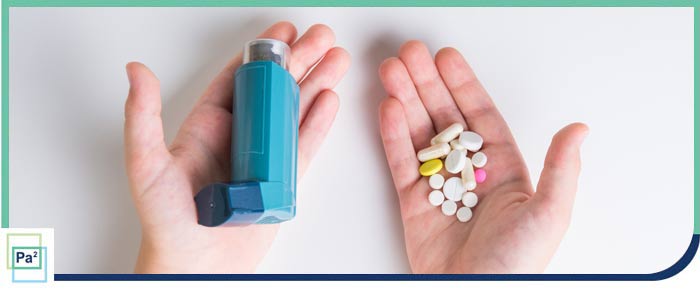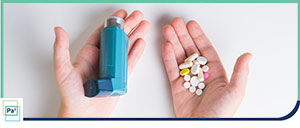 Table of Contents:
What is the difference between asthma and allergies?
What is allergic asthma?
Can allergic asthma go away?
What are common allergens that can trigger allergic asthma?
Here at Piniella Asthma + Allergy our amazing team of board-certified allergist-immunologists specialize in a wide variety of allergy-related diseases. Our clinic provides comprehensive services including allergy testing, asthma treatment, patch testing, immunotherapy, and more. Piniella Asthma + Allergy believes every patient deserves to be treated with the utmost skill, compassion, and ongoing support. For more information on allergy and asthma treatment services in Coral Gables, FL, and Palmetto Bay, FL, please continue reading down below. We've provided detailed answers to some of the most common questions asked about allergies versus asthma!
What is the difference between asthma and allergies?


Although allergies and asthma are different illnesses, they do often occur together. This is why some patients may not know that there are many important distinctions between the two. Many of the triggers that make patients react to allergens can also trigger an asthmatic reaction. However, an allergic reaction and an asthmatic reaction present themselves completely differently.

Allergy
Allergies can happen when a foreign substance enters your body and your immune system reacts abnormally. These substances are generally harmless for most people except those who are allergic. Pollen, animal dander, latex, specific types of foods, insects, bugs, mold, and dust can all cause allergic reactions. Signs you're having an allergic reaction can include:

• Runny nose
• Conjunctivitis
• Swelling in the mouth or face
• Rashes or hives
• Chest tightness, difficulty breathing
• Sneezing
• Dry skin
• Discoloration of the skin
• Fainting
• Anaphylaxis

Asthma
Asthma is classified as a lung disease that causes airways to swell, narrow, and make it increasingly difficult to breathe. Though it can be caused by allergens, it can also be caused by the common cold, exercise, smoke, cold air, distressing emotions, and more. Signs of an asthmatic reaction include:

• Wheezing
• Difficulty breathing
• Blue lips and hands
• Fainting
• Rapid heartbeat
• Breathlessness
• Coughing
• Chest pain
What is allergic asthma?


Allergic asthma is one of the main three types of asthma. It is caused by certain allergens triggering a reaction and narrowing your airways. It is a common type of asthma in adults and children that can be easily managed with the support of our specialists at Piniella Asthma & Allergy.
Can allergic asthma go away?


Allergic asthma can never fully go away; however, with the proper treatment, it can usually be fully controlled. Depending on the severity of your asthma, your doctor could prescribe you one or more of the following treatments:

Short-Acting or Long-Acting Bronchodilators
Short or long-acting inhalers are one of the first treatment recommendations for asthma. Rescue inhalers can help reduce symptoms during an asthma attack by opening up your narrowing airways. Long-acting inhalers are used twice daily on a regular basis alongside inhaled corticosteroids.

Inhaled or Oral Corticosteroids
Corticosteroid medication used to reduce inflammation can come in either an oral or inhaled form. Inhaled corticosteroids help to control your asthma for long periods of time which will reduce your need for rescue inhalers. Prednisone corticosteroid pills have also been proven to reduce the immune system's response to certain allergens.

Anti-leukotriene Drugs
Anti-leukotriene drugs essentially turn off the effects of the molecules responsible for triggering airway inflammation. By shutting down leukotrienes, your reaction to certain allergens will be drastically diminished.

Immunotherapy
Immunotherapy offered at Piniella Asthma + Allergy can be a great choice for people who want long-lasting relief from their mild to moderate asthma. Though these allergy shots are not a full cure, they can significantly reduce the symptoms you experience during an asthma attack.

Antibody Treatment
Patients with severe, dangerous asthma may be prescribed antibody treatments such as Omalizumab. This type of injection can help reduce your body's inflammatory response to allergen triggers.
What are common allergens that can trigger allergic asthma?


Common allergens that can trigger allergic asthma include the following:

• Pollen
• Mold
• Dust
• Tobacco smoke
• Pet Dander
• Rodents
• Chemicals
• Insects (ie. cockroaches)
• Pollution

If you or your child is suffering from allergies, asthma, or allergic asthma, please consider booking an appointment with our immunology clinic. Our allergy doctor would be more than happy to help you manage your condition as effectively as we possibly can. If you have any additional questions about our clinic or the differences between allergies and asthma, feel free to reach out to our reception anytime during our business hours. Piniella Asthma + Allergy looks forward to your visit soon! We serve patients from Coral Gables FL, Palmetto Bay FL, Westchester FL, Brownsville FL, Kendall FL, Pinecrest FL, Richmond West FL, and Goulds FL.